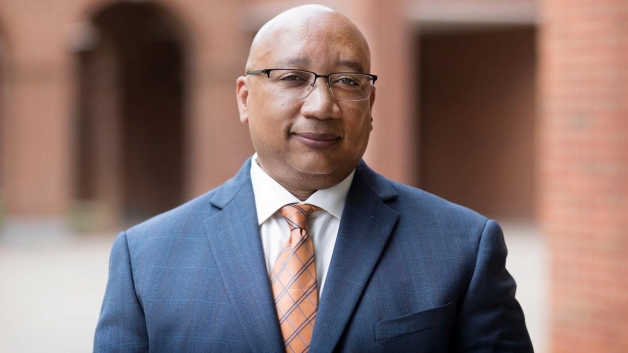 Diversity, Equity, and Inclusion
Is the School of Education and Human Development diverse and how is diversity quantified?
Is the School equitable in its policies and practices?
Is the School inclusive? Have we created spaces where people can bring their authentic selves?
These important yet complex questions have been addressed within the School of Education and Human Development for many years – although in a somewhat piecemeal approach. A new UVA EHD Office of Diversity, Equity, and Inclusion has now formalized our ability to respond to them more holistically.
Led by Associate Dean Robert Q. Berry, III, Samuel Braley Gray Professor of Mathematics Education, the mandate of the office is to tackle four major goals: create and sustain an inclusive and equitable school environment; recruit, retain, and advance a diverse school community; integrate diversity, equity, and inclusion (DEI) into the School's core academic mission; and enhance school-wide DEI accountability, effectiveness, and collaboration.
"I would describe our work as building an inclusive community and space where members of our community can realize their fullest potential," Berry said. "I am excited that we work to build community, support our stakeholders in building shared understanding of complex DEI-related issues, and we work to elevate students, staff, and faculty expertise and experiences."
Berry says this new role allows him the thought space to look across the landscape of the school in a way he never had before, to see what's already happening. "Part of my role is to support existing work and then see where there might be gaps or opportunities," he said.
Catalina Piatt-Esguerra is supporting the office as director of diversity, equity, and inclusion. She formerly worked at the Miller School of Albemarle, where she taught Spanish and served as the school's first coordinator of diversity, equity, and inclusion. "The opportunity to build lanes where they weren't any, to engage in innovation and creativity, to co-lead the formation of transformational infrastructure – for me, that's the most exciting part of our work," she said.
The office has been busy spearheading numerous policy and programmatic initiatives since its inception in August 2020. One that she is especially proud of is Beyond the Common Read. "This programming complements our school's selection for the Common Read to transform it into a common experience, where people are not only reading a book, but also learning through engaging workshops, film series, and lectures that supplement the topics and themes of the Common Read."
Their work is reaching into every facet of the school, from holding student recruiting events to developing guidance for search committees to providing faculty with instructional supports to developing implicit bias training for promotion and tenure committees. The DEI Collective Learning Series is a monthly professional development series intentionally framed to allow faculty, staff, and students to build a shared understanding of topics and concepts around DEI-related issues. The office recently worked with the school's Diversity Action Committee to present a workshop on designing an inclusive, equitable, and representative syllabus. They have also worked with UVA to identify minoritized alumni who enjoy engaging with current students and then began offering events, networking opportunities, and mentorship moments to bring them together.
"Much of our work can be awareness-raising but a lot of it moves toward change and growth," Berry said.
"Students, especially, should be the beneficiaries of this effort," Piatt-Esguerra added, "and then be able to engage holistically with their future students, clients, patients, colleagues, and others. The work of our Office is to create opportunities for shared language-building, capacity-formation, and connection around growing ourselves into the kind of professionals who can do that work."