McWilliams University Achievement Award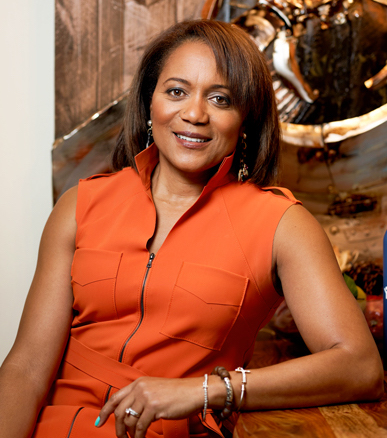 UVA EHD Gets Its Own University Achievement Award
Gift from Alumna Karen Turner McWilliams Doubled with UVA Match
I also think a degree in education is super versatile, and upon graduation there is no lack of employment opportunities.
Karen Turner McWilliams has spent more of her career in court rooms and board rooms than in classrooms, but she values her School of Education and Human Development degree, nonetheless. "I have fond memories of my time in the education school," said Karen, who is senior vice-president and deputy general counsel with SAIC in Reston, Virginia. "I also think a degree in education is super versatile, and upon graduation there is no lack of employment opportunities," she added.
Now Karen has made a gift to establish the first-ever University Achievement Award designated specifically to benefit students enrolled in the School of Education and Human Development.
In her college days, Karen chose an education major, she said, because she loves teaching, she loves learning and she loves younger children. "I am very nurturing by nature and enjoyed babysitting and tutoring," she explained. "Some of my earliest role models were teachers – my mother, Sunday School teachers, public school teachers – and also people working in the school systems, like bus drivers and cafeteria workers."
Even though after graduating from Virginia in 1988 she changed course and pursued a career in law, her undergraduate coursework remained relevant. "I was a trial lawyer in my early career," she said. "My early childhood education major helped me to break down complex issues into a third-grade vernacular and simple themes so I could relate to juries."
Over the course of her career, Karen has worked for law firms in Virginia and Washington, D.C. For almost a decade she was with E*Trade Financial and joined SAIC in 2017, where she advises SAIC's executive leadership team and the chief human resources officer on legal matters. She is also general counsel and co-founding officer of The SAIC Charitable Foundation. Ever the educator, Karen is proud of the legal interns she has hired over the years, as well as the young lawyers and students she has influenced to pursue legal careers.
When she learned she could endow a University Achievement Award with a $100,000 gift and that UVA would commit a 100 percent match, she knew it was the right vehicle for her investment in the School. "I hope the award will give students who need financial aid but may not qualify by federal standards an opportunity to forego borrowing and relying so much on student loans," she said.
University Achievement Awards were created to increase the diversity of the student body. Awards are given to students from Virginia who demonstrate outstanding leadership and character while overcoming personal hardship. All in-state applicants to the Education School will be automatically considered for this award, which covers tuition and fees.
"I have been blessed to be able to give," Karen said, "and I hope that my gift may encourage others to give."
Additional gifts to the Karen Turner McWilliams University Achievement Award fund may also be eligible for a 100% match. Learn how you can increase the value of this award for our students.