YOUTH-NEX
With powerful research on positive youth development, Youth-Nex, the UVA Center to Promote Effective Youth Development, is seeking to ignite conversation, action, and a movement to re-envision and remake the middle school experience in a way that recognizes the strengths of all young adolescents. Middle school can both reflect the developmental changes that youth experience—and reinforce their strengths: autonomy, creative thinking, innovation, and activism, to name a few.
Imagine that you had the opportunity to completely redesign the middle school experience. What would your dream school look like? How would it support the unique needs of early adolescents? Youth-Nex researchers posed this question to over 100 middle school educators, parents, and community partners during their nationwide Remaking Middle School (RMS) Listening Tour. This is what they heard.
Student Voice/Collaboration in Decision Making
Educators and parents alike highlighted the importance of centering middle school redesign work with students' voices. They discussed how students need to be consulted before any redesign work begins. One administrator explained this, noting:
"We've always thought, well, if the kid had the choice whether or not they would come to your classroom … would they? And we saw in the last few years, the answer to that for some kids was, no. They wouldn't. So, how do we change that? I think we change that …by asking kids. I would pose that question to 615 adolescents."
Youth-Nex's data suggests that the voices of adolescents should be the first and the loudest. However, eliciting student voices did not go far enough. Instead we must bring students into the conversation as equal collaborators in decision making. Another administrator exemplified this narrative stating, "the governance of the place needs to be… in such a way that there are student representatives in school boards, students who are on the admin team. … Don't talk about them, talk with them…". Taken together, this suggests that design work should both begin and end with students, fostering opportunities for continued collaboration and idea sharing throughout the entire process.
Developmentally Supportive Curriculum
Educators and parents also voiced a desire to redesign the middle school curriculum, opting for curricula that are developmentally responsive to the needs and assets of middle school students. For example, many highlighted developmentally supportive strategies such as fostering failure-safe educational contexts, teaching content with real world applications, emphasizing cross-curricular connections, and assigning experiential / project-based learning activities. Underlying all of these suggestions is a focus on getting students away from the traditional siloed approaches to learning out of context. One youth development worker highlighted their desire for: "more project-based, community-based learning opportunities, where it's integrative — you know, it's not a singular subject matter but it's integrated subjects working… all connected together on topics and exploration." Strategies of this sort foster more opportunities for students to engage in a curriculum that is both supportive of their developmental needs (e.g., autonomy, socialization, risk taking,) and fosters more opportunities for critical thinking.
Social-Emotional Learning/Whole Child Approach
Many of the parents and educators that we spoke with envisioned redesigning middle school so that it prepares students not only to excel academically but also to thrive personally. Their dream middle school cultivates a climate that supports whole-child development and equips students with the social-emotional skills necessary to succeed in school, work, and life. One school administrator described, "I think there's this aspect of social-emotional learning and creating safety and spaces for, honestly, particularly middle schoolers to just learn how to be little humans." Stakeholders also spoke of the need for educators to establish meaningful and healthy relationships with each student and to acknowledge their students' unique strengths.
One parent described:
They treat each child as an individual, like, human being, who is celebrated for all their weirdness. There are so many weird, happy, wonderful kids. That's what middle school should be, right? That to me is the basic difference of the [ideal middle] school and everything kind of builds from there. The teachers are focused on the kids as individuals. They're helping them interact [and] grow.
Respondents highlighted specific strategies to support social-emotional development (e.g., restorative justice approaches, mental health services, school-home-community partnerships) and emphasized the importance of centering equity in redesign efforts: "there's got to be a principle of equity and universal human value that can't be compromised."
Physical Space
Several participants believe that a traditional classroom layout simply "doesn't work for middle schoolers because it's completely counter to the way their bodies are growing." In many traditional school settings, students are confined to their desks with the exception of transitioning to and from classes, lunch periods, and bathroom breaks, not providing adequate time to socialize with peers or exert energy outside of designated recess and physical education periods. One middle grade administrator stated that he would combat this by creating "a common area that was a place where students can sit, and hang out, and talk" as well as "a big outdoor learning area, an interactive garden." While several participants focused on the significance of including opportunities for social interaction amongst students and outdoor learning, others spotlighted the importance of making learning spaces visually appealing to students. One middle grade parent shared his ideal classroom "would be bright, definitely bright. I hate the white walls. The kids hate the light walls, the fluorescent lights, and just the plain floors. It would be just brightly colored, because that's the middle school personality." Adolescent years are known for being a time of transition and self-discovery. They are anything but boring, "so why are we putting them in boring classrooms?"
The Remaking Middle School initiative is an emerging partnership working to build and steward a new collective effort for young adolescent learning and development. The Altria Group has played a crucial role in supporting Youth-Next.
In addition to the long-standing capacity-building support for Youth-Nex totaling more than $10M since 2009, we are grateful to partner with Youth-Nex to support them in designing and leading professional learning communities for 19 Boys and Girls Clubs funded by Altria. This work builds on Youth-Nex's involvement to help with the engagement strategy to support these Clubs. Youth-Nex's close partnership with Boys & Girls Clubs of America will facilitate rich learnings that will benefit this national network.
Amber Roos, Senior Director, Underage Prevention and Cessation Support, Altria
Altria has invested in positive youth development organizations for 25 years, and we are grateful to have partnered with Youth-Nex since its inception in 2009. Thanks to the work and leadership of Youth-Nex, there is more science informing the positive youth development field. We focus investments in programs that support middle school students because the science shows that protective factors, such as positive relationships and activities, can positively change the trajectory of kids in the critical time of adolescence. The outcome can be reduced risk factors, helping kids make healthy decisions and resist a broad range of risky behaviors, including tobacco use.
Jennifer Hunter, Senior Vice President, Corporate Citizenship and Chief Sustainability Officer at Altria Client Services, has served on the Board of the SEHD Foundation since 2012.
The Los Angeles Rams partnered with the University of Virginia (UVA) School of Education and Human Development to launch a 5-month Positive Youth Development (PYD) Training Series for more than 30 Watts Rams coaches and Los Angeles Police Department (LAPD) officers in the Rams' locker room at SoFi Stadium.
"When we took over the Watts Bears and renamed them the Watts Rams, we always envisioned a program bigger than just youth football," said Executive Vice President of Community Impact and Engagement Molly Higgins. "We are allowing our Watts Rams coaches to continue to develop professionally and tapping into the expertise of UVA to help them grow as mentors, teachers, and coaches."
The PYD program will act as a valuable guide for Watts Rams coaches, who also serve as LAPD officers, and includes the best approaches and practices for supporting the Watts Rams athletes' growth and development as thriving youth as well as athletes. Throughout the workshop series led by Youth-Nex: The University of Virginia Center to Promote Effective Youth Development, Watts Ram coaches will focus on the principles of positive youth development, identify the strengths and challenges of the Watts Rams athletes, use engagement and behavioral strategies to promote positive youth development and implement strength-based strategies to challenge experiences associated with systemic oppression.
"This is way deeper than just football," said Watts Rams General Manager Marc Maye. "Football is just the hook that brings the kids together. It helps to create the umbrella of fun, that we all have the same synergy for. The wrap around services that we can provide through this program are for the social and emotional wellbeing of the child. Getting the officers to learn what mentorship is and looks like and gives them the tools to be proper mentors. Whether that is meeting the kids where they are academically or figuring out where their struggles and trauma come from, we want to provide those services and resources to them and then have some fun."
This series will include five workshops throughout the 2022-23 season. Following each workshop, participants will leave with actionable ideas and approaches to apply to their interactions with youth, both on and off the field. Additionally, participants will have access to a groundbreaking simulation program to develop their mentoring skills in a virtual environment.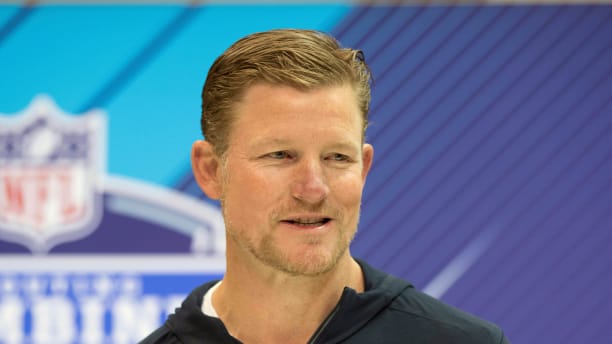 Rams General Manager Les Snead serves as a board member on the UVA School of Education and Human Development Foundation Board, a dynamic group of professionals who have committed themselves as fundraisers and ambassadors of the school, promoting EHD's work among their networks. Snead worked with Higgins, Maye, and the University of Virginia to create a program that will enhance LAPD's youth development training.
"We always talk about how our Watts Rams are supported by our entire organization and this is a tangible example of that," said Higgins. "Les saw an opportunity to utilize the thought-leaders at UVA to provide this growth opportunity for our coaches to better equip them to be the best possible role models and mentors for our kids. The coaches have been incredibly receptive and appreciative of the resources and support from Les and UVA."
To make a gift to support Youth-Nex and its efforts to remake middle-school, please click here.