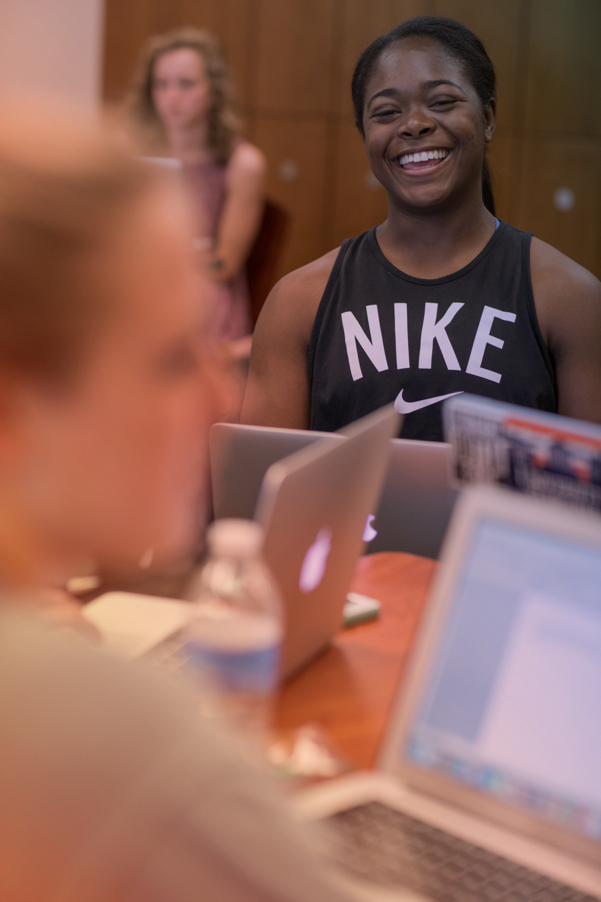 Dedicated Donors
SARAH BARLOW WRIGHT
For more than a century the Curry School has excelled in developing leaders in the research and practice of education, health, and human services. Many generous individuals want to support and promote our good work, and we are especially grateful for alumni who make long-term commitments to give back. Graduates like Sarah Barlow Wright (M. ED 1958) credit the Curry School with preparing them for successful careers, so they become loyal annual donors.
Initially a classroom teacher, Mrs. Wright was quickly promoted from assistant principal to principal in Newport News, Virginia, after earning her masters of education degree from Curry in 1958. Around the time she retired from her 35-year career in education, she began making yearly gifts to Curry and has given annually now for more than 30 years.
I hope it helps in some way, she says. She is a firm believer in the importance of alumni participation in giving. Her annual gifts may not be large, she acknowledges, but over time they add up, and they signal her appreciation of an outstanding education.
SUSAN CRAIG
In addition to making her own annual gifts, Susan Craig (B.S. 61) recently had the foresight to extend her support of the Curry School even beyond her lifetime: by making a bequest to the School in her estate plans.
Although she was interested in journalism when she came to UVA, the late education professor Paul Walter became her mentor and set her on a career path as a teacher, which she found to be both fulfilling and rewarding. By following Dr. Walter's encouragement to pay it forward, Mrs. Craig is providing future support to the Curry School without impacting her current cash flow or assets.
Mrs. Craig hopes her gift will help others find the unexpected in their paths through teaching, as she did, but she purposely designated the bequest as unrestricted.
I believe that the Dean and faculty of the Curry School are the ones who know what is needed in today's world to both promote and protect the role of teachers.

Sarah Barlow Wright
I could never have imagined the virtual classroom that is used today to help students prepare for the real thing!

Susan Craig
THANK YOU
We appreciate the commitment of Mrs. Craig, Mrs. Wright and many others who are so dedicated to ensuring that the Curry School legacy lives on for generations to come.