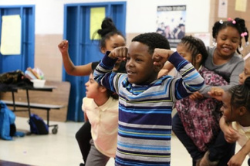 Educating for Democracy
Understanding how the ideals of democracy and equity are taught and putting that knowledge to use in classrooms is a priority at the School of Education and Human Development. The Educating for Democracy initiative – funded with a $1 million gift from the Bank of America Charitable Foundation – is a major advance toward that goal. The project is focused on creating and disseminating practical, evidence-based lessons and tools for educators around topics of racial justice and equity.
"This initiative is a critical and timely addition to our growing portfolio of efforts addressing fundamental issues of equity, access and justice," Dean Robert Pianta said. "We are hopeful for the ways an investment like this from the Bank of America can make an exponential impact for good on classrooms and students across the nation."
The project leverages the power of education to promote dialogue and build bridges around issues of race within the U.S. context. An interdisciplinary group of researchers is developing curricula to offer best pedagogical and curricular practices for teachers. The project will build a national repository of content, tools and best practices.
"Educating for Democracy assembles expertise from across the School and UVA to examine how challenging aspects of U.S. history can be brought to life in contemporary educational settings," said Derrick Alridge, director of the Center for Race and Public Education in the South, housed in the School. As the team links historical perspectives and contemporary civics, it has drawn on experiences from recent initiatives – such as the project's January teacher professional development workshop, the Teachers in the Movement project's teachers institute, and the summer virtual Freedom School – not to mention our excellent teacher education program in social studies and the asset-based research of Youth-Nex: The UVA Center to Promote Effective Youth Development.
Project director Johari Harris explained that the learning resources would provide K-12 students with developmentally appropriate questions and dilemmas around issues of race and justice.
"This approach is drawn from social-cognitive domain theory, which says that children's and adolescents' reasoning about issues of justice, human welfare, and social norms looks qualitatively different at different points of development," Harris said. "This reasoning has the potential to become much more complex and nuanced with age and it is enhanced and strengthened through peer-to-peer dialogue about complex issues that require a child or adolescent to take multiple perspectives."
Educating for Democracy resources began to show up online in October 2020, and the development team hopes to observe their use in some local schools and gauge their effectiveness in 2021. Alridge said that work on the project is already impacting other aspects of the school experience for K-12 teachers. "Inspired by work of our team with the Educating for Democracy project, the School is developing an Equity Certificate for teachers interested in gaining competency in diverse historical content, responding to difficult conversations in the classroom, and teaching from a culturally competent perspective. The project is having ripples beyond the curriculum itself."
The Center for Race and Public Education in the South (CRPES) conducts and supports empirical research on a variety of issues that lie at the intersection of race, education, and schooling in the southern United States. Click here to learn more about the Center.